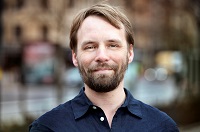 Why did you start working at Tagore?
–  I got a recommendation that Tagore was something for me, which of cource made me curious. After meeting with CEO Benny Lundberg it felt like a very good match. Tagore is a company that's built on sound values, openness and honesty.

What did you like the most?
– A big part was their values and Benny Lundberg as a person. The people working at Tagore are very competent in different areas, and everyone here actively work with sharing insights and knowledge. I really like that.
Tell us a bit more about yourself – what's your background?
–  I have a background in music. Most recently I worked both as a Scrum Master and a Requirement Analyst in agile development teams at H&M.
And your professional specialities?
–  Requirement and business analysis and agile work.
In what way do you think the costumers will notice that you started at Tagore?
–  I am very enthusiastic and passionate about requirement and business analysis. I want to contribute to highlighting needs and solutions that create benefits for customers.
What do you do when you're not working?
– I spend a lot of time in the music studio and rehearsal space. I always have some ongoing project. I also like to spend time outdoors – long walks, jogging and working out. In the winter I enjoy going skiing. And of course, I like to hang out with family and friends.
Name: Joakim Kulo.
Age: 31.
Family: Sambo.
Lives in: Aspudden.