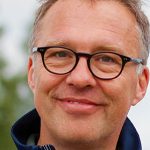 Why did you start working at Tagore?
"I wanted to work for a small consultancy firm with both IT-architecture and management competence."
What interested you the most?
"The deciding factor was Tagore's focus on building trust and confidence. I also immediately felt I could trust Benny Lundberg, Tagore's CEO. He is a calm, confident and trustworthy person."
Tell us a bit more about yourself – what's your background?
"I have worked as a consultant and an employee in various architectural roles because I'm interested in complex challenges in different contexts. My role is often to be a bridge between IT and business, identify problems and challenges, and then find the best possible solution."
What will you do at Tagore?
"Work as a consultant and advisor in architecture and continue to be a bridge between different decision makers and IT, i.e. to create solutions and implement them."
What are your professional specialties?
"I have experience from many different architectural roles. I use information modelling and capability mapping as tools. I also have experience working with sales, both online and more traditional sales."
In what way do you think the costumers will notice that you started at Tagore?
"I want to contribute in Business-driven integration architecture. It is a key area with great potential. Our customers will need, to a greater extent than today, to take ownership of their own information and capabilities and not entrust these vital areas to a supplier or to a standard tool. It has to be managed and developed based on the business reality, the core competencies and differentiating capabilities."
What do you do when you're not working?
"I like to go sailing, work on my summer house and sing second base in a chamber choir."
Name: André Ekespong
Age: 55
Lives in: Stockholm.
Family: Wife and two kids who aren't kids anymore